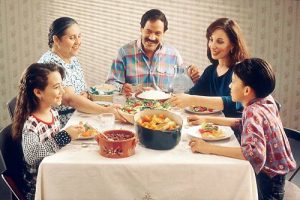 March is National Nutrition Month, and Marion Public Health is excited to bring you our first ever One-Pot Wonder Recipe Challenge as a way to celebrate it!
Science says that everybody does better with family meals – we all eat better, feel better, get along better, and do better in school! So we'd like to challenge you to break out of your norm, try some new recipes, and share with us. In exchange, you'll be entered to win a free crock pot and cook book!
How To Participate
Download our One-Pot Wonder recipes PDF for recipes in this challenge, OR make another recipe of your choosing that features a whole grain choice

*

Snap a picture of you and your family enjoying the meal.
Share it with us by sending us a direct message through the  Marion Public Health Facebook Page
Each recipe you try and share with us counts as an entry, and increases your chances to win!
*This challenge features foods that are whole grain, and an easy way to change up your own recipes at home is easy with a few simple swaps! You can…
Use brown rice instead of white rice.
Use bread, cereal, tortillas, and pasta with "100% Whole Grain" or "100% Whole Wheat" on the package.
Check the ingredient list to see if the food is made from whole grains. Look for the word "whole" before the first ingredient.
Contest starts February 20th, and winner will be randomly selected on Friday, March 20th! Get ready… get set… get cooking!