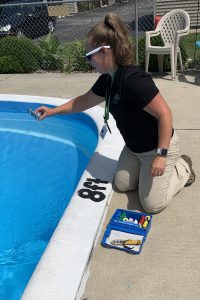 Summer means pool season, and Marion Public Health inspector Madison Shuret has been out in the community ensuring public safety with pool inspections.
With roughly 33 licensed pools in Marion County, each pool undergoes routine inspections to verify chemical levels, safety features, lifeguard certifications, and more. These inspections reduce the risks of injury and recreational water illnesses caused by germs in the water.
We post all of our inspection reports online for public review, which can be found by clicking here and selecting "Pools" from the menu.
Without your help, even properly treated pool water can spread germs.
In addition to our regular inspections, you can help keep pools healthy and safe for you, your friends, and your neighbors. Keep the pee, poop, sweat, and dirt out of the water!
Shower before you get in. Showering for just 1 minute removes most of the dirt or anything else on your body.
Stay out of the water if you have diarrhea. A single diarrheal incident can introduce millions of germs into the water.
Don't swallow the water. Avoid getting it in your mouth.
Take regular breaks.  If you're at the pool for the day, build in a break for kids and adults at least every hour. Check diapers, and change them in a bathroom or diaper changing area—not poolside— to keep germs away from the pool.
Share the fun, not the germs!
Find out more on healthy swimming with the CDC here: https://www.cdc.gov/healthywater/swimming/