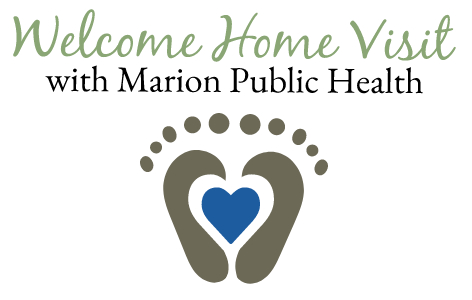 Many changes take place the first few days after the birth of your baby. That is why it is so helpful to have a Welcome Home visit with a Public Health Nurse to make sure you and your baby are doing well!
A Welcome Home visit is an opportunity for families to get peace of mind and ask in-depth questions about the health and safety of their new baby.  Families will be visited by a Public Health Nurse to check up on the health of you and your baby, offer breastfeeding support, provide information on baby growth, safety, nutrition, immunizations, and more! Visits also include a free gift for you and your baby!
Launched in 2018 thanks to a grant from the Marion General Hospital Foundation, this voluntary, free program is available to all Marion County residents who have recently given birth as well as foster parents recently placed with newborns.
New moms can self-refer while in the hospital after birth by filling out a request for a Welcome Home Visit. Requests for a Welcome Home visit can also be made by calling Savannah Wurthmann, BSN RN at 740-692-9178.